Presidential aspirant Hon. Robert Kyagulanyi aka Bobi Wine has been arrested by the Ugandan Police on Wednesday morning and taken to Nalufenya Police Station. Bobi Wine was arrested from the campaign grounds in Luuka District where he had gone to talk to his supporters.
Why was Bobi Wine arrested?
Police arrested Bobi Wine following a directive from the Inspector General of Police Martin Okoth Ochola that was issued on Wednesday morning against candidates who hold rallies having a number bigger than the allowed 200 people in order to control the spread of the deadly COVID-19.
"Despite repeated warnings issued to candidates, their agents and wider public about the negative impact and health risks of holding unauthorized rallies and processions, we continue to witness acts of defiance and total disregard of the EC guidelines. Therefore, those who shall defy these Electoral Commission guidelines with their sinister plans aimed at disrupting the Electoral process will definitely suffer consequences." a statement from IGP Ochola

Bobi Wine in a police van. Photo by Daily Monitor
Police accused Bobi Wine and his National Unity Platform for having more than 200 supporters on the rally which was more than the allowed number. After a scuffle between Bobi Wine supporters and the Police, Bobi Wine was arrested and taken to Nalufenya Police Station.
"We have therefore, adopted a tougher approach to preserve the integrity of the electoral process. We have dispatched our specialist teams and quick reaction teams, to identify ring leaders (and principals) for apprehension in the face of crime. We have disseminated our comprehensive policing plan to all territorial commanders for them to implement without fear or favor." Police's statement further said.
NRM Supporters have been holding processions and rallies having more people than the allowed number but none of them have been arrested. A procession of artists led by Bebe Cool has been seen in various towns holding mass processions whenever Museveni holds his campaign meetings.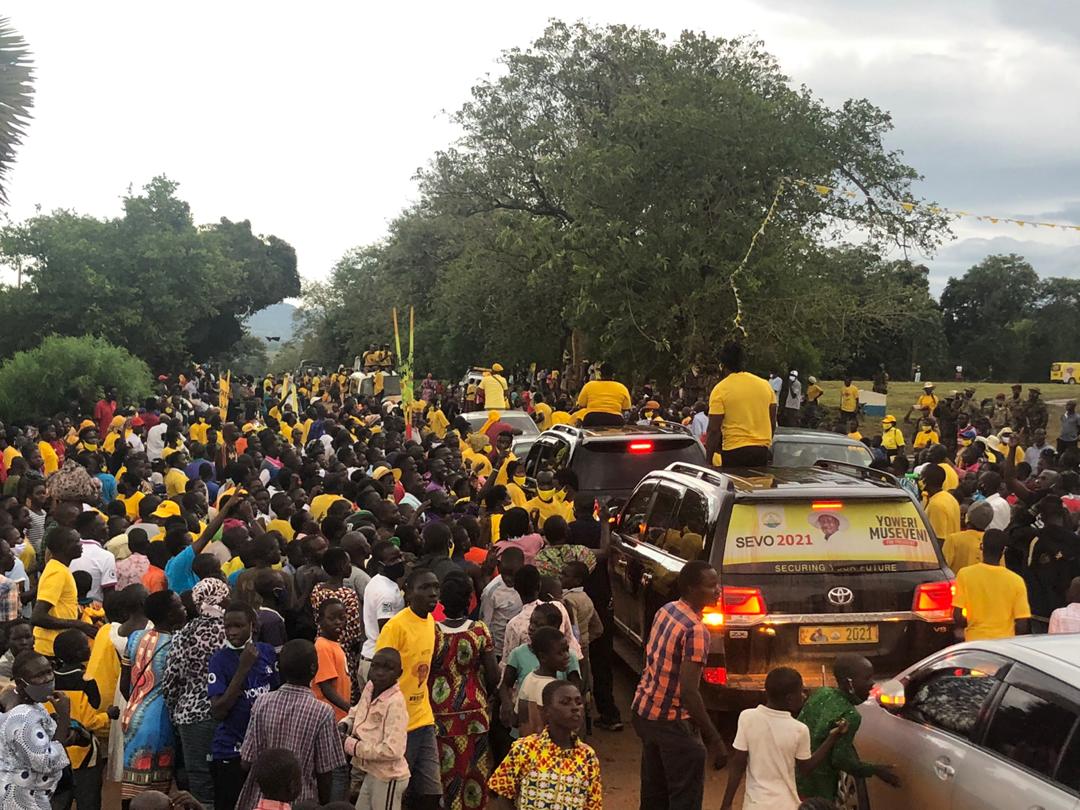 NRM Procession in Gulu on 16th November 2020